First off, I apologize for not posting much in the past couple weeks. Been really busy lately, and from the looks of my calendar, things really aren't going to slow down much.
Maybe
we'll have some free time in July, if we don't end up scheduling something then too. Lol!
Anyway... I decided to post some pictures of our day trip on Memorial Day. We got together with my aunt's family and went hiking to some water falls. We didn't go very far, because it was raining off and on and we didn't want to get stuck in the rain, but it was still fun and VERY pretty.
So, without further delay...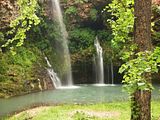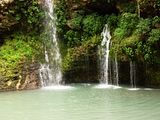 Click on the thumbnail to see a larger picture.